OUR STORIES
Constantly honing technical ability to
create cotent that rivals
other companies around the world.
Server-Side Programmer

Y.S.
Joined in 2008
Please tell us about your current job role.

I work as a programmer developing all aspects of our titles from application development to server infrastructure design.
I am currently working as lead programmer for a new title. I work with other programmers to help solve problems, and I also work with other groups such as our game design team, graphics team, and also with our external development partners. In my spare time, I enjoy coding using the latest features available on the platforms we work with.
Please tell us how you came to work here and why you chose this company.

My previous job was not in the game industry, but in logistics systems for a B2B company. At that job, when I developed a new system or made an improvement, the reaction from clients and others members in the workplace was almost nonexistent, so it was difficult to see the fruits of my labor.
I decided to look for a new career and concentrated my search on IT companies in the Nagoya area. Just by chance I came across a recruitment listing for Ateam Entertainment in a list that I got from a career advisor. I thought that game companies in Japan were all in Tokyo or Osaka, so I was quite surprised to see one in Nagoya.
At that time, it brought back fond memories of when I had just started programming as a third grade elementary school student creating games on my pocket computer. I decided I was going to chase my newfound dream of being a game programmer and step into the games industry.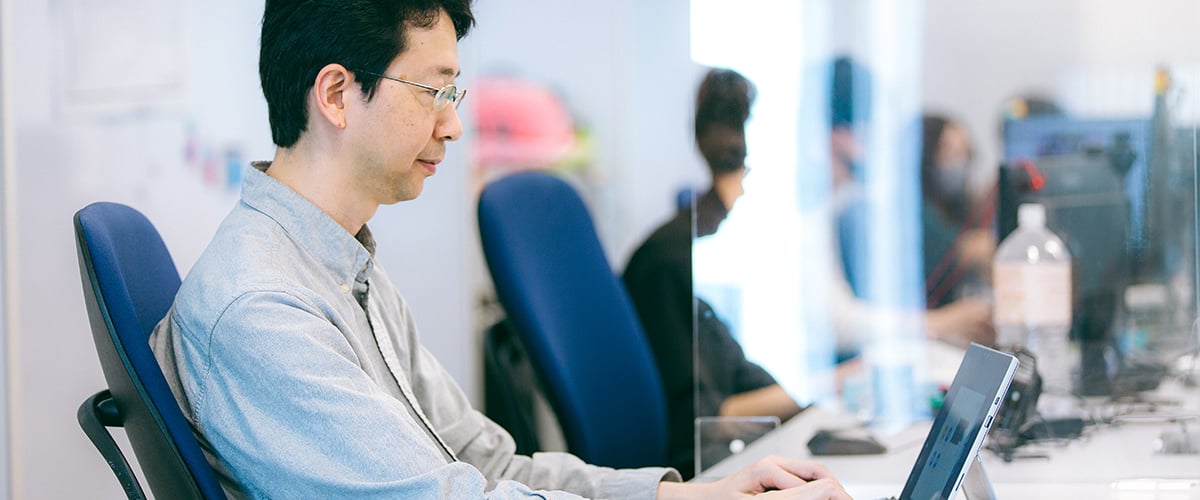 What do you like about Ateam Entertainment?

I would have to say it is the culture of everyone thinking about the financial health of the company together. Compared to when I first joined Ateam, the number of staff members has increased by more than 1,000 people. Despite the huge increase of staff, we still have a company-wide meeting every week where company information is shared in great detail. At my previous job I couldn't see how my work translated into the bigger picture, yet at Ateam this is being done weekly.
I also feel that no matter how tough the situation might be, the ability to positively break through adversity lies within both the individual and the organization. In the past, when our division was in the midst of a development hardship, we didn't make any compromises on quality to save money. Instead we knuckled down and powered through with a positive attitude which uplifted the atmosphere in the whole company.
As a programmer, I also like the fact that we have multiple small projects in which the day-to-day movement is fast-paced. We are given the freedom to decide things at our own discretion. We are rarely bound by middleware restrictions, so we can move quickly to make improvements. I believe our knowledge in infrastructure, localization, game design, and implementing game updates is above the industry standard.
What do you value in your work?

I am now in a leadership position, so when I ask someone to perform a task, I make sure that I explain the whole situation surrounding it.
Creating and running games is not easy by any stretch of the imagination. There are times where even the smallest tasks have to be completed under difficult conditions. I believe that if people know how their work will feed into the bigger picture, they will feel a greater sense of responsibility for the tasks they have been given and work to the best of their ability.
With smartphone games, there is often more work on the backend side of things in terms of running and updating the game. Releasing a title is by no means the final goal. The game can only continue to be enjoyable by making adjustments and adding new content. To facilitate this, a strong infrastructure has to be firmly in place from the start.
Please tell us about a memorable experience you've had while working here.

When the smartphone game market was beginning to expand rapidly, we released "Dark Summoner" and reached the number one top grossing spot in both Japan and North America.
We had been able to reach number one in Japan several times, but had yet to do so for the North American market. To achieve this, the programmers and game designers met many times to develop a game update that would be appealing to players outside of Japan.
I remember releasing such an update at midnight here, which coincides with lunchtime in North America, and two hours later our game achieved the goal we'd set for the global market. Afterwards, the company executives came down to congratulate us, and I remember feeling a great sense of pride. The players liked the update so much that our servers were beginning to buckle, so I ended up glued to my desk until morning. That experience was personally taxing, but it still brings a smile to my face every time I think about it.
What challenges and aspirations do you have for the future?

One of my goals is to see a game that I've worked on reach the top of the grossing rankings again. Companies all over the world are constantly producing better gaming experiences. There are times when I look at other companies' games and it's hard to imagine how they create and update such amazing experiences. I have acquired a lot of experience over the years, but I know that I still have a lot more to learn and improve on. The market now is a much tougher place to compete in, but I will work to bring Ateam to the next level so that we can reach the top once more.
What would you say to someone who's thinking about a career at Ateam Entertainment?

For us to be able to compete with the growing quality of other game companies around the world, development is tough. I also think that in the future we'll expand and branch out into other areas of entertainment.
No matter the challenge we face, we'll work as a "team" and stand together to confront and overcome. If you think you'd like to be a part of that, then we'll be here waiting for you.