OUR STORIES
Contributing to a global-scale title
soon after joining the company
Localizer

C.G.
Joined in 2021
Please tell us about your current job role.

I'm working on localizing several of our titles for French-speaking audiences. I localize from both Japanese and English source texts and utilize my strength as a native French speaker to culturalize our content to appeal to players in French-speaking regions. I also work on researching popular content, promotion methods, and trends in the French-speaking world that will provide us with insight on how to enrich the experiences of our titles.
Please tell us how you came to work here and why you chose this company.

I graduated from a university in France and then spent a year studying abroad in Japan. After I finished my studies, I joined a Japanese company as a graduate hire and worked as a web director for three years before joining Ateam Entertainment. I learned a lot in my previous job but thinking about my career and wanting to use my French, English, and Japanese skills, I decided it was time for me to find a new home.
Due to the coronavirus pandemic, I had my job interview with Ateam Entertainment online. The interviewer, who is my manager now, was very friendly and easy to talk to, so I felt at ease. When deciding where I wanted to work, the principles of the company and the personalities of staff came at the top of my list of priorities. Of course, the work itself is important, but for me, being able to forge strong interpersonal relationships and help each other to grow as individuals is paramount. Ateam Entertainment's philosophy "To Be a Company Where All Can Achieve Happiness Together" resonated with me, and the great diversity in backgrounds and skillsets of the staff was appealing, so I decided that I wanted to work in this environment and joined the Ateam Entertainment family.
What do you like about Ateam Entertainment?

Firstly, the thinking here is flexible and free. Regardless of position in the organizational structure, staff are given freedom to be proactive to effect change and drive the company forward. Consulting management is important, but in this open environment, I feel I'm able to communicate more smoothly and efficiently. The environment here allows open and honest communication regardless of role or experience, which makes it easy to put forward ideas and suggestions. I'd say that people who take a more proactive attitude towards work are probably a better fit for this company than those who are more reactive.
The warmth of my fellow team members is also something I really like about Ateam Entertainment. Even team members who don't work together will reach out to help one another. The focus on working as a team keeps me reassured that we can produce work to a high standard. I started working from home from my very first day at the company, so it was difficult to figure everything out, but many of our team members helped guide me through a constant video link where I was able to ask questions any time something came up. They weren't even asked to do that by our manager--they took the initiative to do it on their own. I'm very grateful to be able to work with them.
What do you value in your work?

To sum it up in three words: the player's perspective. Simple, literal translations will not keep players engaged. I make a point of always taking the time to think about how to provide the best possible experience for the players. Ateam Entertainment creates content for various genres, so we must adjust many things in the style of writing we adopt. This may include paying close attention to the feelings that the characters evoke through their choice of words, the characters' personalities, and how characters interact differently with one another. I enjoy thinking these things through to localize our text to the best of my ability.
I also place great importance on my individual growth. There are often times when I struggle with new tools or French-specific problems, but I consult with other team members and research how to overcome any difficulties. Focusing too much on your own strengths blinds you from seeing your weaknesses and areas for potential growth, so I try to look at the broader picture to discover opportunities to learn and grow. Staying curious and not being afraid to take on new challenges helps me contribute to the company while also growing as an individual.
Please tell us about a memorable experience you've had while working here.

Being able to work on a major title still in development. When developing a new title, there are many things we need to do to establish a solid base for localization. As we are localizing, we have to work on adjusting text carefully to match the title's UI/UX, and we also play an active role in promotion and put forward ideas for region-specific marketing efforts. I was surprised to be given a role with such great responsibility soon after joining the company and I have to say, I was filled with joy despite being a little overwhelmed.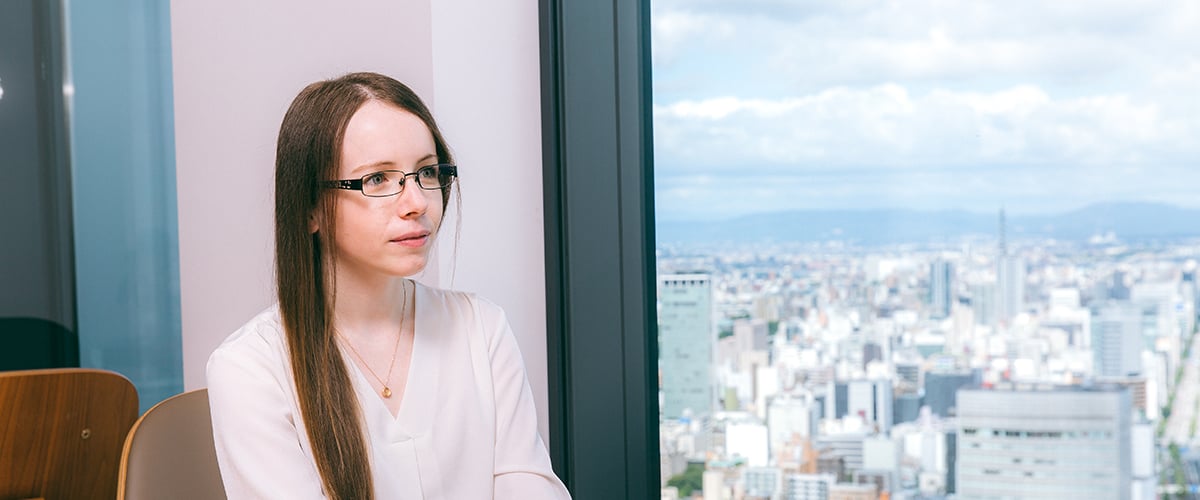 What challenges and aspirations do you have for the future?

Going forward, Ateam Entertainment is going to ramp up its efforts to get its content into the hands of players around the world. I want to play my part in helping us achieve our goal of releasing global-hit titles that will have scores of fans all around the globe. I'm currently mainly focused on localization and research, but in the future, I would also like to increase my skillset and work more on production and promotion so that I can contribute to creating exciting content. I want my translations and ideas to lead to a positive reception for our games.
What would you say to someone who's thinking about a career at Ateam Entertainment?

Ateam Entertainment is going to continue creating lots of exciting projects and working with different IP to develop new titles and hold collaboration events, so I think if you join us, you'll have the chance to work with some of the IP you love. Working on titles that have the potential to reach players all around the world is a really fulfilling experience!
Ateam Entertainment has a wide range of staff, each with their own idiosyncrasies and skill sets. However, everyone cooperates to work towards a common goal. If you possess curiosity, like to use your strengths to achieve something great, and want to grow along with your teammates, then Ateam Entertainment is the place for you. Let's work together to bring fun and excitement to players around the globe!