OUR STORIES
Delivering carefully culturalized
content to players around the world
Localizer

M.K.
Joined in 2012
Please tell us about your current job role.

I am currently working as a section leader in our globalization team. My main responsibilities are managing translation schedules, creating game feature proposals, and gathering player feedback to share with the different development teams.
Localization of Ateam Entertainment titles is performed both in-house and outsourced depending on the language and title. My role is to coordinate with both in-house members and translation companies we work with to ensure that localization tasks are carried out on time and to a high standard.
Another important role that I undertake is to make sure that culturalization is part of our localization process. Certain concepts or ideas that are the norm in one part of the world may be offensive or completely alien elsewhere, so we need to make sure that we adapt our games into easily enjoyable experiences.
I was born and raised in England and came to work in Japan after graduating from university. After teaching English for several years, I joined Ateam Entertainment and have been with the company a little under ten years (at the time of this interview). Over the years, the number of titles that we operate has increased along with the size of our team, so I dedicate a portion of my time to train and guide other members and continually improve our workflows.
Please tell us how you came to work here and why you chose this company.

During my time as an English teacher, I always knew that teaching was just going to be a stepping stone in my career as I wanted to utilize my Japanese ability at work. As my teaching contract was nearing its end, I had several job interviews at various different companies in a wide range of different industries. I didn't have any programming knowledge or any advanced IT skills, so I hadn't really thought about working in the game industry until I stumbled across Ateam's recruitment listing. I have always enjoyed games since I was a kid, so when I saw an opening at Ateam, I jumped at the chance.
The interview at Ateam was completely different to any that I had taken at other companies. The atomsphere was friendly and exciting, and I could feel the passion for games from my interviewers. We talked about the different games we liked, which was really fun and helped me to relax. I had found a job where I could use my Japanese, utilize the fact that I'm a native English speaker, and work with games, so I knew I would take the job if I was given an offer.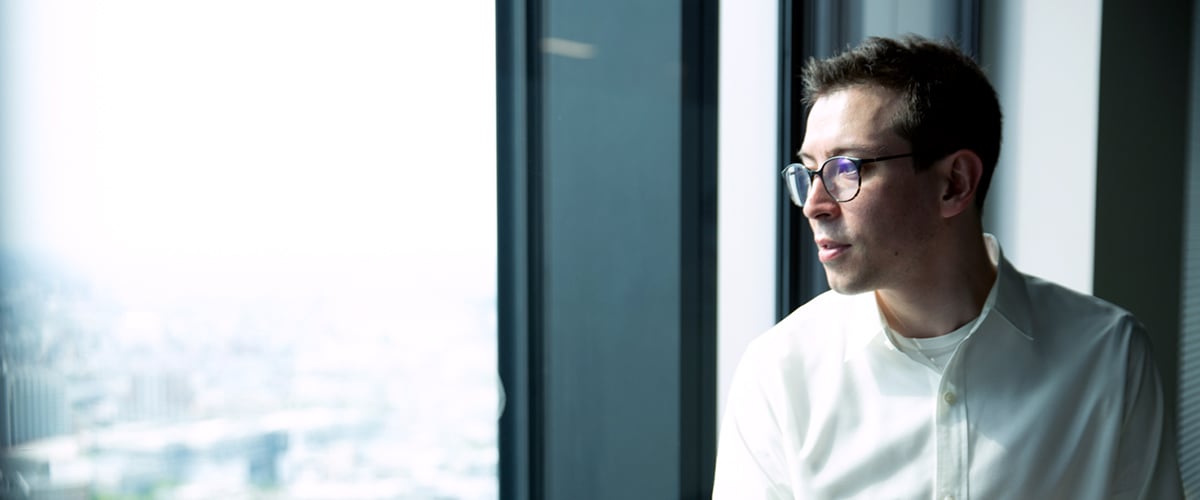 What do you like about Ateam Entertainment?

To sum it up in one word: freedom.
If you want to make, change, or improve something, your bosses and coworkers will give you their time and hear you out. Bosses and senior coworkers also give you advice and help you realize whatever it is you are trying to achieve. I think this stance of encouraging change and development is a big factor in driving the growth of the company.
I also think of Ateam as a meritocracy. New and younger members can reach positions of authority if they show potential and are willing to work hard.
Ateam is staffed with people with great personalities. Everyone you talk to is sincere and easy to talk to, so it's fun working together. There are times when differences of opinion occur, but we listen to one another and work together to find the best solution for everyone.
What do you value in your work?

Player feedback is extremely important to me. We don't get to talk face to face with the people playing our games, so we need to do everything we can to make sure we are living up to their expectations. After we have discussed ideas and suggestions from players, we let the players know what we thought about their feedback and how we intend to act upon it.
An example of this is when we have character design contests where players have a chance to see their designs implemented in our games. We also run surveys to see what kind of events players want. Players provide us with feedback regarding the pace and content of updates, and we often alter update schedules based on this feedback.
There have been many instances where player suggestions have been turned into in-game events. The actual content creation is handled by each of the development teams, but we make sure that our players know if and how their feedback is going to affect the game by posting regular update reports on social media.
Being involved with our games on a much deeper level than just localizing makes the job all the more worthwhile.
Please tell us about a memorable experience you've had while working here.

One of the most memorable times was when I was in my second year here at Ateam. I put forward an idea for an English vocabulary study app that was given approval and eventually released to the Japanese market.
When I was studying Japanese in university, I used a program that employed spaced repetition to help me learn Japanese vocabulary more efficiently. After joining Ateam, I became more familiar with the different apps available on the various app stores and noticed that there weren't any English study apps for Japanese people that harnessed this method of learning. I spoke to my boss at the time about this and, to my surprise, he told me to draft up a proposal. I couldn't believe that someone like me who had no experience in planning or design would be given an opportunity to actualize my idea.
I took my finished proposal to the leader of the team in charge of tool applications and was given the green light to create the app. I switched over from localization to planning and worked in a small team for roughly eight months to develop the app and release it.
I don't think there are many companies that would give someone the chance to pursue an idea like this, so I am grateful to work at Ateam.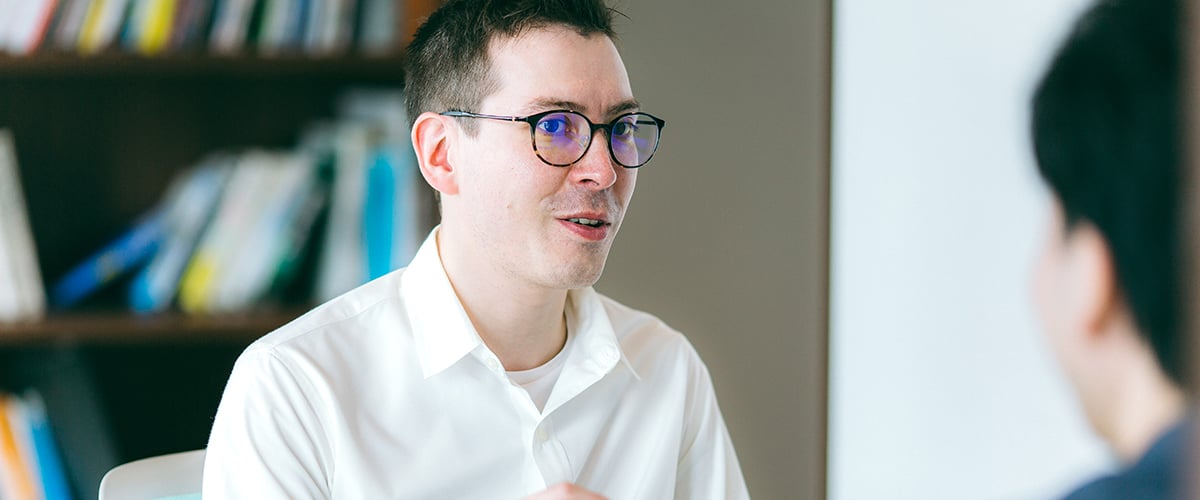 What challenges and aspirations do you have for the future?

When I compare the games that I was working on when I first joined to the games I am working on now, the difference in the technical capabilities of our staff is on a whole different level. We have also greatly boosted the number of members in our globalization team so that we can get our content out to players around the world. As one of the leaders in the group, I want to continue improving our work environment so that each of our members can flourish and we can reach new heights together.
When players pick up our games, I want the localization to be so good that they don't even notice the game was made in Japan or localized. Players around the world should have the same experience when they play our games regardless of what language they are playing in.
What would you say to someone who's thinking about a career at Ateam Entertainment?

Ateam Entertainment is constantly growing and developing. We produce content for a range of different genres, so there is always a new challenge around the corner. We are continually ramping up our efforts to produce games that can hold their own around the world.
To achieve that, we will need to draw on the skills and ideas of our globalization team members more than ever before. Using your language skills to inspire and excite fans around the world is an amazing job, so if you want to deliver enjoyment to players around the globe, come and join us.
It can be daunting and stressful to start a new job, but everyone here is more than willing to help new members become part of the family. If you're thinking about a career in the games industry, I think Ateam Entertainment is a great place to be!