2023.06.30 SERVICES
Unison League is Collaborating with TV Anime "Lycoris Recoil"! Free Collab Spawn x10 Every Day! Log In and Receive "[Café Poster Girls] Chisato & Takina"!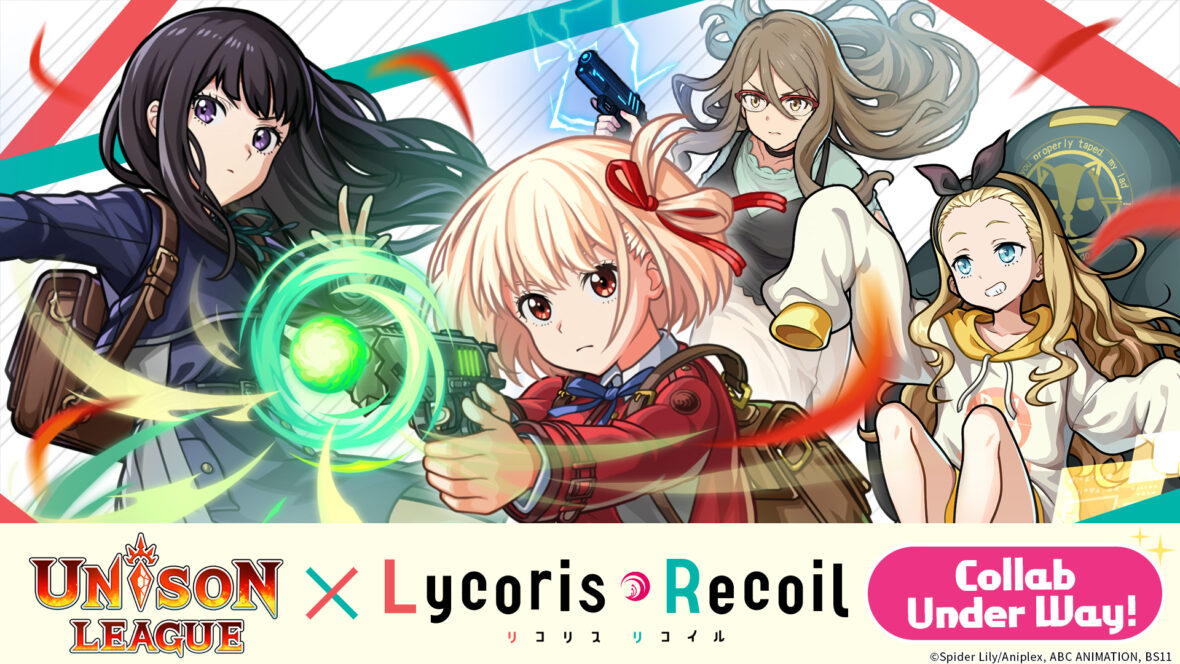 Ateam Entertainment Inc. (headquarters: Nagoya, Japan; president: Yukimasa Nakauchi) has teamed up with popular TV anime "Lycoris Recoil" to bring exciting new content for a collaboration event in the iOS/Android™ real-time action RPG Unison League.
■"Lycoris Recoil" Collab Now Under Way!
Unison League's collaboration with TV anime "Lycoris Recoil" is now under way!
"Chisato Nishikigi", "Takina Inoue", "Mizuki Nakahara", "Kurumi" and more are appearing as collab characters.
Claim UR Collab Character "[Café Poster Girls] Chisato & Takina" when you log in for the first time during the event!
Get Furniture to recreate Café LycoReco in-game, exclusive EX Animations "Fish", "Eel", and "Eating 'Parfait'" based on popular scenes from the anime, as well as various other collab items by clearing Quests.
▼Event Details
An experiment being done by the mages of Rigiida goes awry, and at the same time, Mizuki accidentally activates a trap program on Kurumi's computer, sending Café LycoReco and all of its members flying off to the world of Unison League. Chisato and company open Café LycoReco for business in this new world while looking for a way to return to theirs.
Schedule: 7/1/2023 (Sat.) 4:00 a.m. Unison Time – 7/14/2023 (Fri.) 12:59 a.m. Unison Time
We'll also be posting more information regarding the collaboration on Twitter and Facebook, so make sure to check it out.
Official Twitter: https://twitter.com/Unisonleague_EN
Official Facebook Page: https://www.facebook.com/unisonleague.ateam
Collaboration Promotional Video: https://youtu.be/8uzhyFz82GU
■Get UR Collab Character "[Café Poster Girls] Chisato & Takina" Just by Logging In!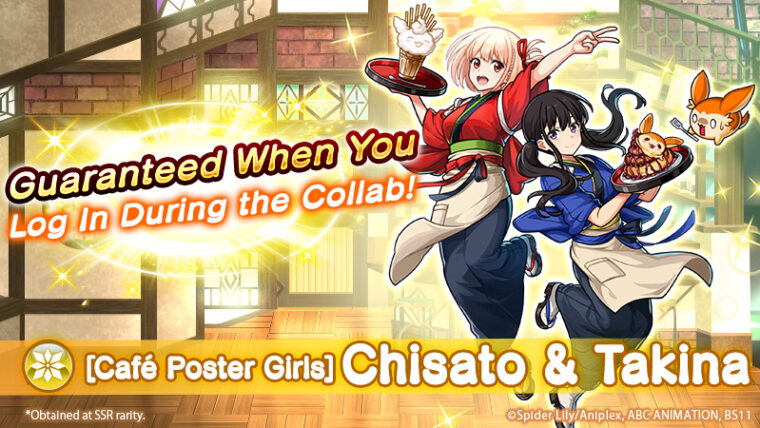 ■Free Collab Spawn x10 Every Day! Featuring New Collab Characters!
*Examples of Collab-Exclusive Monsters are listed below. Monsters are obtained at SSR rarity.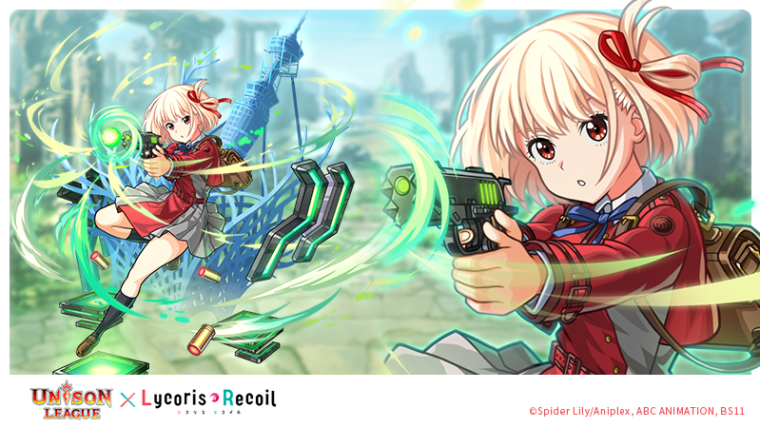 [Non-lethal] Chisato Nishikigi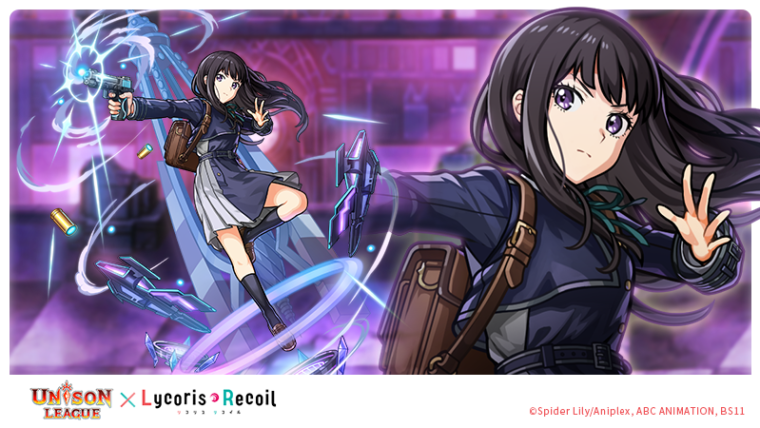 [Straight-laced] Takina Inoue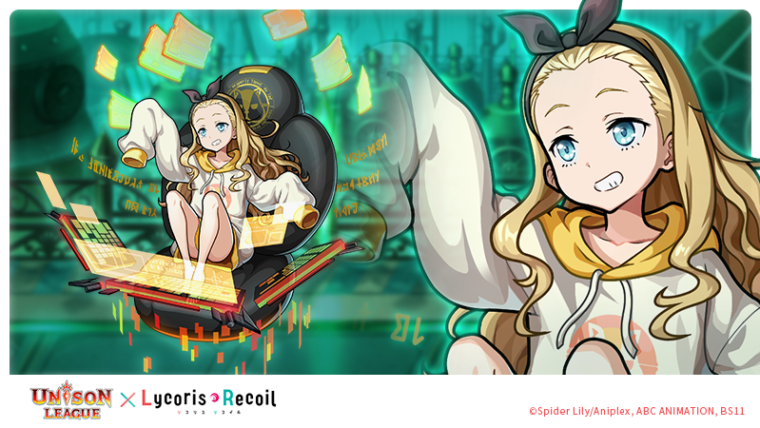 [World's Best Hacker] Kurumi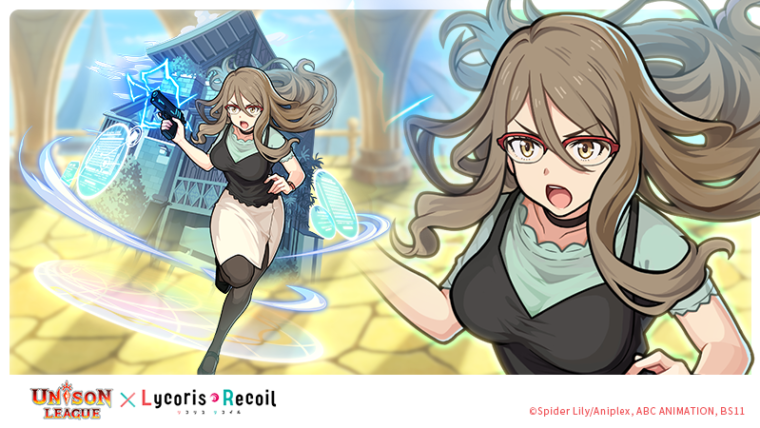 [Café LycoReco Staff] Mizuki Nakahara
■About "Lycoris Recoil"
For these peaceful days—there's a secret behind it all. A secret organization that prevents crimes:  "DA – Direct Attack". And their group of all-girl agents: "Lycoris". This peaceful everyday life is all thanks to these young girls. The elite Chisato Nishikigi ios the strongest Lycoris agent of all time. Alongside is Takina Inoue, the talented but mysterious Lycoris. They work together at one of its branches-Café LycoReco. Here, the orders this café takes range from coffee and sweets to childcare, shopping, teaching Japanese to foreign students, etc. The free-spirited and optimistic pacifist, Chisato. And the cool-headed and efficient Takina. The chaotic everyday lives of this mismatched duo begin!
TV Anime "Lycoris Recoil" Official Site: https://lycorisrecoil.com/ (English)
Copyright: ©Spider Lily/Aniplex, ABC ANIMATION, BS11
■About Unison League
Unison League is Ateam's hit smartphone RPG offering which originally launched in Japan on December 4, 2014 before seeing an English release several months later.
Price: Free to play (in-app purchases available)
iTunes App Store: https://itunes.apple.com/us/app/unison-league/id968953976
Google Play Store: https://play.google.com/store/apps/details?id=en.co.atm.unison
Amazon Appstore: https://www.amazon.com/gp/mas/dl/android?asin=B0169VW5WY
*Collaboration details may be changed at any time without prior notification.
*Images contained herein are for illustrative purposes and may vary from the final product.
*iTunes App Store is a registered trademark of Apple Inc. as registered in the United States and other countries.
*The program is not provided or supported by Apple.
*Google Play Store and Google Play logo are registered trademarks of Google LLC.
*Amazon, Amazon.co.jp, and related logos are registered trademarks of Amazon.com, Inc. and affiliates.
*All company and product names herein are trademarks or registered trademarks of their respective owners.