2022.11.15 SERVICES
Collaboration Event with Popular Anime "That Time I Got Reincarnated as a Slime" Begins in Fantasy RPG Valkyrie Connect! Players Can Receive "Ranga & Rimuru (Slime)" for Free as an Event Reward!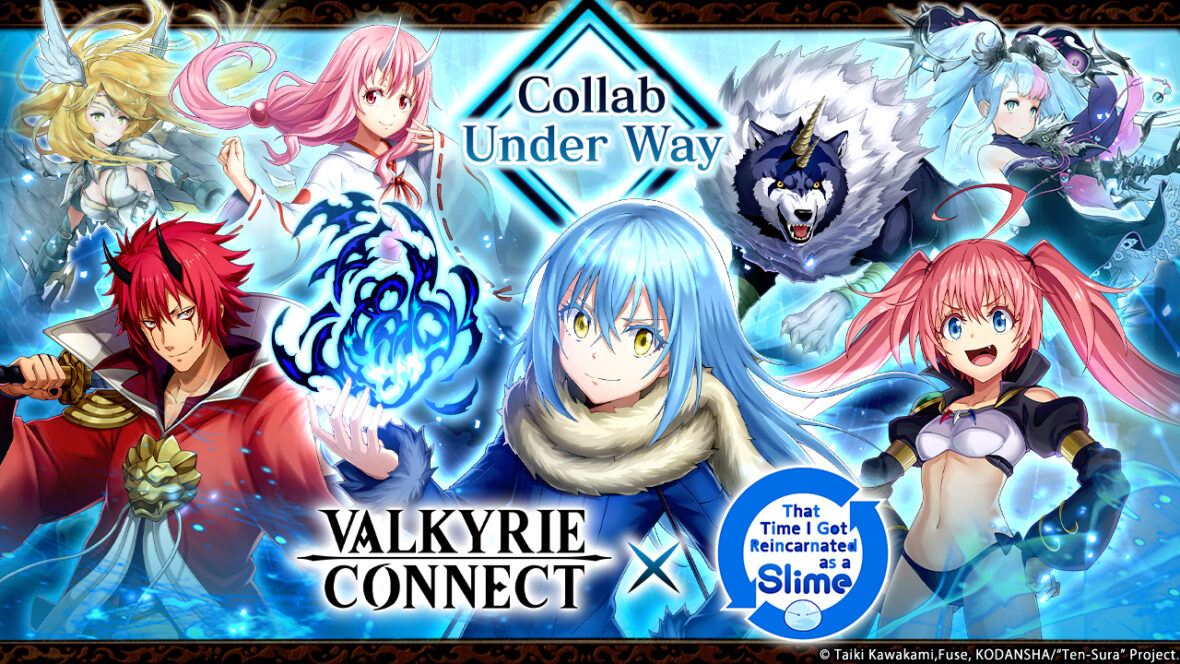 Ateam Entertainment Inc. (headquarters: Nagoya, Japan; president: Yukimasa Nakauchi) has announced that its hit game Valkyrie Connect is starting a collaboration event with the popular anime series "That Time I Got Reincarnated as a Slime" beginning worldwide on November 15, 2022.
■First Collaboration with "That Time I Got Reincarnated as a Slime"!
Rimuru Tempest, Benimaru, Shuna, Milim Nava, and Ranga & Rimuru (Slime) all appear as characters to be added to players' rosters in Valkyrie Connect for the first time. The event features a specal Connect Battle with Milim Nava as the boss and a scenario quest with an original storyline that can only be experienced in Valkyrie Connect!
Play through the event to earn coins and exchange for collaboration character "Ranga & Rimuru" for free. Rimuru Tempest turns into a Demon King with skills that change upon Awakening!
Event Availability: 11/15/2022 after maintenance – 11/30/2022 15:00 UTC
You can find more information and updates regarding this limited-time collaboration on our official social media pages.
Official Twitter Page: https://twitter.com/vconnect_en
Official Facebook Page: https://www.facebook.com/valkyrieconnect.ateam/
Collaboration Trailer: https://youtu.be/QtwsY3o-yr4
■New Collaboration Heroes!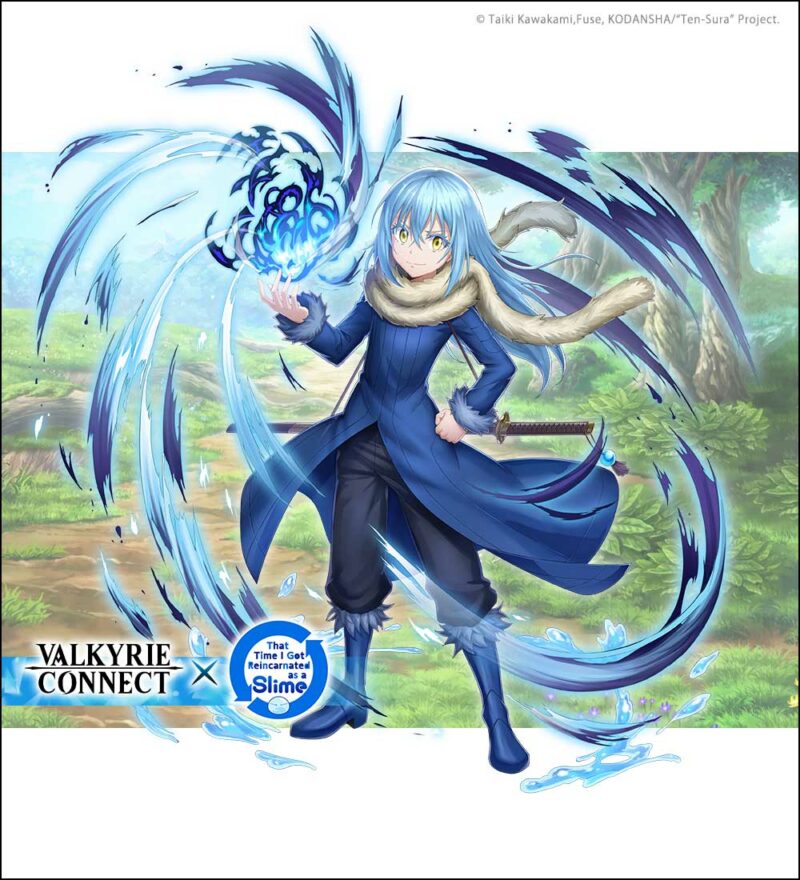 Rimuru Tempest (Voice: Miho Okasaki) *Awakenable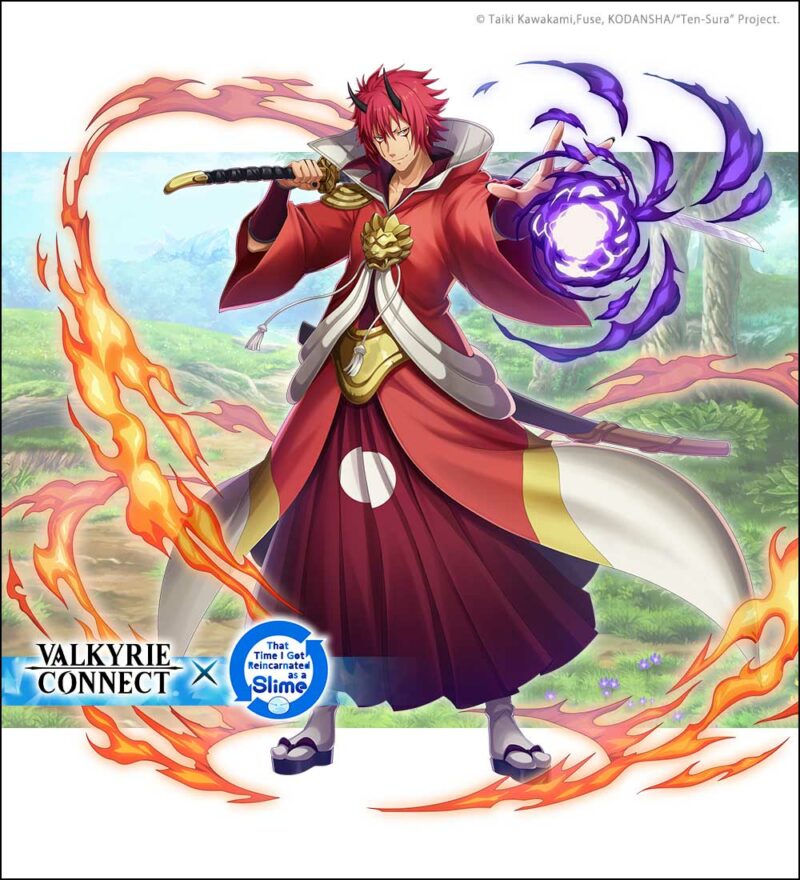 Benimaru (Voice: Makoto Furukawa)
Shuna (Voice: Sayaka Senbongi)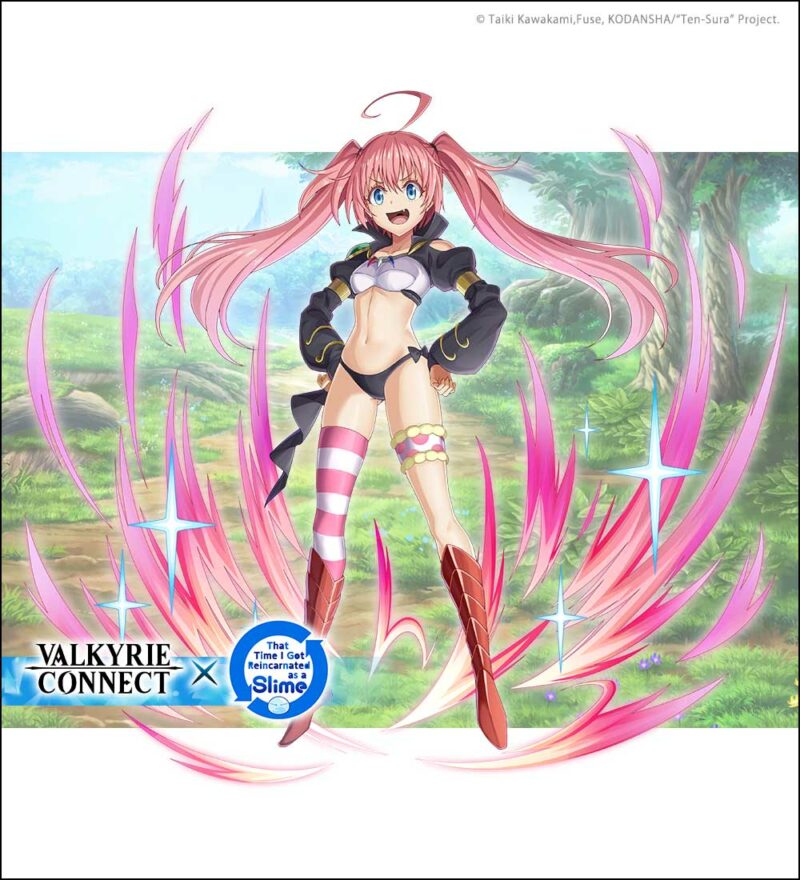 Milim Nava (Voice: Rina Hidaka)
■Rimuru Tempest Turns into a Demon King with Skills That Change after Awakening!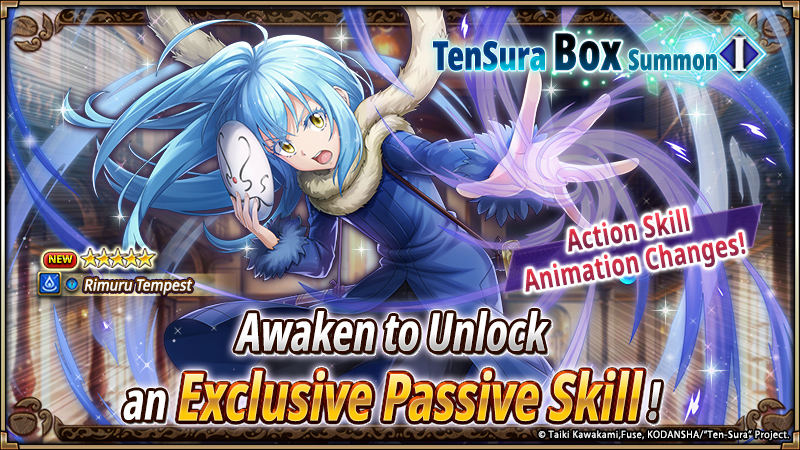 ■About "That Time I Got Reincarnated as a Slime"
Average office worker Satoru Mikami dies after being stabbed by a murderer. After his death, he is reincarnated as a slime named Rimuru in a fantasy world where he encounters dragons, goblins, dwarves, ogres and more and befriends them with his wisdom and courage. Through agreements and trade with neighboring countries, the nation of the Jura Tempest Federation, built by the many demons who gather around Rimuru, is working to create a utopian land where humans and demons can co-exist. In Rimuru's heart is a fondness for humans, a remnant from his past life as a human, but there is a clear hostility towards demons that prevails in this new world. Confronted with such prejudice, what willl Rimuru choose, and what will be sacrificed?
Official "That Time I Got Reincarnated as a Slime" Website (Japanese): https://www.ten-sura.com/
© Taiki Kawakami,Fuse, KODANSHA/"Ten-Sura" Project
■

About Valkyrie Connect
Valkyrie Connect is a high fantasy RPG that combines Norse mythology with a unique Japanese anime flavor. In the game, players assemble a collection of heroes, villains, gods and more to fight in full 3D real-time battles. The co-op "Connect Battles" are the game's signature feature, and require players to fight alongside one another in real time to take down massive bosses. With a simple battle system perfect for mobile devices, complex party composition, and excellently written characters, Valkyrie Connect is one of the premier RPGs for mobile devices.
Price: Free to play (in-app purchases available)
[Download Valkyrie Connect for Smartphones]
App Store: https://apps.apple.com/us/app/valkyrie-connect/id1078813307
Google Play: https://play.google.com/store/apps/details?id=jp.co.atm.vcon.ww&hl=en
Amazon Appstore: https://www.amazon.com/Ateam-Inc-VALKYRIE-CONNECT/dp/B01NAHVSC3
[Download Valkyrie Connect for PC]
Steam: https://store.steampowered.com/app/1222800
*App Store and iTunes are trademarks of Apple Inc., registered in the U.S. and other countries.
*This program has not been authorized, sponsored, or otherwise approved by Apple Inc.
*Google Play and the Google Play logo are trademarks of Google LLC.
*"Amazon", "Amazon.co.jp" and their logos are trademarks of Amazon.com, Inc. and its affiliates.
*©2022 Valve Corporation. Steam and the Steam logo are trademarks and/or registered trademarks of Valve Corporation in the U.S. and/or other countries.
*Companies and products mentioned above are trademarked and/or registered trademarks.