2022.06.16 SERVICES
Unison League is Collaborating with TV Anime Yuki Yuna is a Hero! Free Collab Spawn x10 Every Day! Collab Character Cosmetics From Login Bonuses!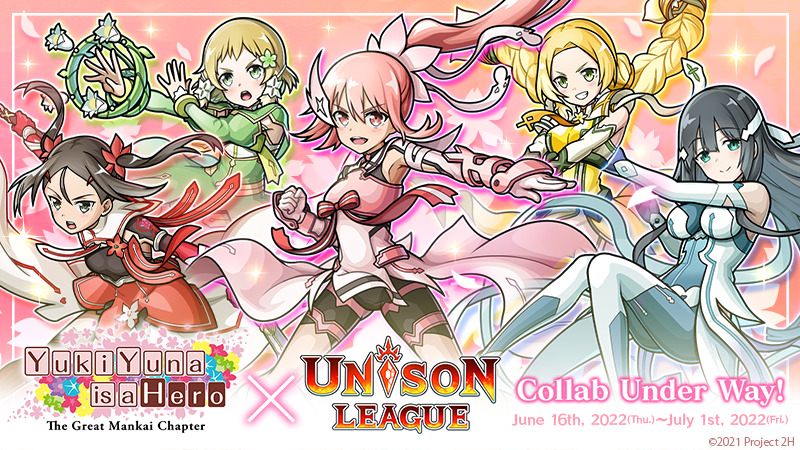 Ateam Entertainment Inc. (headquarters: Nagoya, Japan; president: Yukimasa Nakauchi) has teamed up with popular TV anime Yuki Yuna is a Hero to bring an exciting collaboration event to Unison League.
■Yuki Yuna is a Hero Collab Now Under Way!
"Yuna Yuki", "Mimori Togo", "Fu Inubouzaki", "Itsuki Inubouzaki", and "Karin Miyoshi" from the popular TV Anime Yuki Yuna is a Hero are here in Unison League.
Schedule: 6/16/2022 (Thu.) 4:00 a.m. – 7/1/2022 (Fri.) 12:59 a.m. Unison Time
Please see our official social media accounts for more details.
Twitter: https://twitter.com/Unisonleague_EN
Facebook: https://www.facebook.com/unisonleague.ateam
Collab Promotional Video: https://youtu.be/cAPmrS18BA8
■Free Collab Spawn x10 every day featuring Collab Characters!
Featuring [Hero] Yuna Yuki, [Hero] Mimori Togo, [Hero] Fu Inubouzaki, [Hero] Itsuki Inubouzaki, and more! You can draw a Collab Spawn x10 for free every day.
*Obtained at SSR rarity.
■Get Character Cosmetics from login bonuses!
Login during the event period to get Hair & Face Cosmetics to dress up your avatar as Yuki Yuna, Mimori Togo, Fu Inubouzaki, and Karin Miyoshi.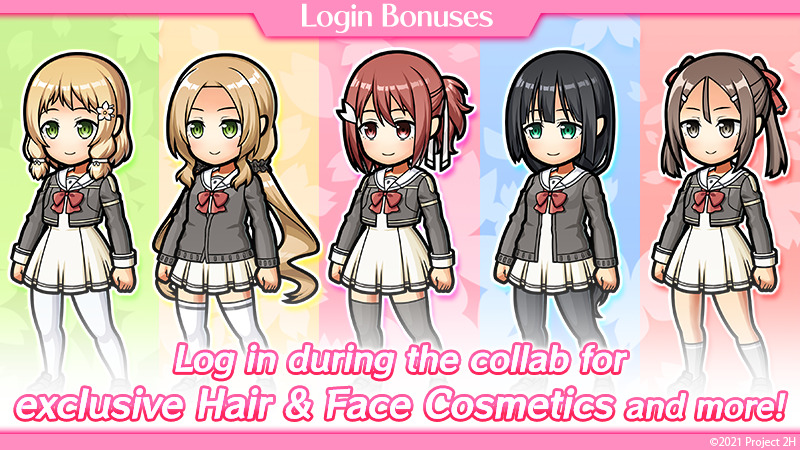 ■About Yuki Yuna is a Hero
Yuna Yuki is an ordinary second-year student in junior high school apart from the fact that she is a part of the "Hero Club" in school. The story is set in the 300th year of the Era of the Gods where the mysteries of the "Hero Club" unravels. An original animation written by popular writer, Takahiro, known for Maji de Watashi ni Koi Shinasai!! and Akame ga Kill!, directed by Seiji Kishi, story editor and screenplay by Uezu Makoto, and character design draft by BUNBUN.
Yuki Yuna is a Hero Official Website: https://yuyuyu.tv/daimankai/
Copyright ©2021 Project 2H
■About Unison League
Unison League is Ateam's hit smartphone RPG offering which originally launched in Japan on December 4, 2014 before seeing an English release several months later.
Price: Free to play (in-app purchases available)
iTunes App Store: https://itunes.apple.com/us/app/unison-league/id968953976
Google Play Store: https://play.google.com/store/apps/details?id=en.co.atm.unison
Amazon Appstore: https://www.amazon.com/gp/mas/dl/android?asin=B0169VW5WY
*Collaboration details may be changed at any time without prior notification.
*Images contained herein are for illustrative purposes and may vary from the final product.
*iTunes App Store is a registered trademark of Apple Inc. as registered in the United States and other countries.
*The program is not provided or supported by Apple.
*Google Play Store and Google Play logo are registered trademarks of Google LLC.
*Amazon, Amazon.co.jp, and related logos are registered trademarks of Amazon.com, Inc. and affiliates.
*All company and product names herein are trademarks or registered trademarks of their respective owners.